I've been feeling this way for a few days now. This dry spell is as if I was in the middle of the Sahara, but I suppose all artists, including photographers, go through it at some point of time or the other. I seem jaded, I seem spent. Is that why I'm focusing more on writing? The creative rut is obvious: it seems to be staring at me in my face, and I don't like what I see. I have no ideas for new images; I am making photographs of things that don't really interest me; I find myself photographing the same people, places and things, in the same "old" ways; I am finding my computer slow, my mouse unresponsive, and Photoshop a waste of time. I am finding fault with every photograph that I make. I am dreaming of changing my camera and other gear. In fact, I don't even want to write about this, but I am.
Thank you Google for letting me know that "photographers block" hasn't afflicted me alone. I found a psychologist called Graham Wallas. He talks about the phases of the creative process. Now Graham introduced one of the first models of the creative process in 1926, which happens to be en vogue still with the customary additions, deletions, and year-on-year reinterpretations. In Wallas' model, the creative process has five distinct phases: preparation, incubation, intimation, illumination, and verification.
The first phase is preparation – defined as the moment when a goal is first set, generally as a question e.g. "What would be a better way to capture the landscape of the Indian Himalayas?" or maybe even more specific, such as, "How do I make a unique photograph of the Zanskar river in Ladakh?" For me the question is difficult, or rather the answer is: "What is my signature style?"
Next comes incubation – a time of subconscious reflection on how to get those photographs i.e. figuring out the answers to the questions. This is when the brain is working on the problem, and sometimes, it's easy to confuse incubation with creative block. For me the important thing is to recognize that real inspiration does not come without serious contemplation of the issue at hand, and for this I need time. I need to stimulate my brain as much as possible so that it can come to the best, most informed solution. I need art, photography, paintings. I need to change my frame of reference. This is what I'm doing, but it needs patience, and yes, it is frustrating. Patience is not my forte.
After that is intimation (hopefully), the idea of which is pretty simple, even though it seems like divine intervention. I might get the feeling that the solution is "coming to me," because, in fact, it is.
If all goes well, illumination follows; this is the moment when Archimedes jumped out of his bathtub! Illumination is the "eureka" moment. It's the breakthrough, the instant when I'll have a clear answer to my questions. I also realize it may come when I least expect it, while I'm in the shower or buying groceries, but it's the result of a lot of work on the part of my faithful old brain.
The final phase is verification where my "lightbulb" idea will be confirmed. Because moments of inspiration come and go, I need my photographer's notebook for my thoughts e.g. the next time I'm out on the street, stop down the lens, minimize ISO, force a slow shutter speed and make B&W photographs of scenes which dynamic motion. I have to remember that some thoughts may seem like radical ideas, but they're also the kinds of things that will pop out when much time has been spent in trying to resolve a problem.
This is not new to me. I've done this before when I'd had enough of the "usual" sunsets, though at that time I didn't ponder too much on this, simply because I didn't know enough. Maybe too much theory on rules also obstructs creative license. In this photograph (one of my first after I "started" serious photography), for instance, I didn't think too much. It is only now that I find I made it such that the railing of the pier was along the primary diagonal adding dynamism to the image and led the eye to the cabana and the sunset with radiant, golden hues. Classic Rule of Thirds.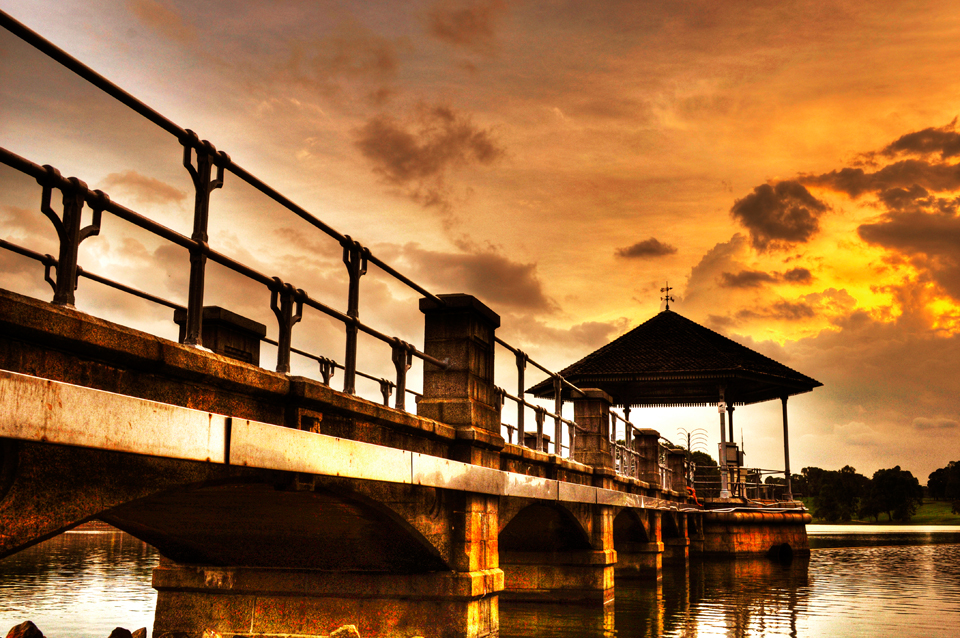 In all of this, I guess if I could be creative then, I will be creative again. The important thing for me to believe is that creativity sometimes needs time to find a way out of the doldrums. I need to believe that creative block, for any artist is not permanent, much less fatal, and doesn't need a medical policy. Note to self – quit being worried.
But what's the solution I wondered? Again, Google to the rescue. From Project 365, to just point-and-shoot, to venturing into new genres, boot-camp photography, to studying the master's, playing with toy cameras, old-school photography assignments, the full Monty – nothing has been left out. What'll happen to me? I really feel like I lost my creative mojo. You would think I could come up with an answer – something, anything. Nada. Nothing. Zero. Zilch.
I don't quite like this feeling of being in an inter-planetary galactic space at all. I feel restless. I need inspiration. I'm off to Ladakh for a week day after tomorrow. I'll tell you what works when I get back.
And oh yes, Ansel Adams said, "Twelve significant photographs in any one year is a good crop".
This too shall pass.