It's been about 10 days since I wrote my last post. I've been distracted and busy with work, and was out traveling. But I put all of that aside to write just now. And for some strange reason, Rabindranath Tagore has been on my mind through the day, perhaps because when I think of my photography and writing, I feel just how Tagore wrote: "I have spent many days stringing and unstringing my instrument while the song I came to sing remains unsung."
The week before last, I had gone to Mahabalipuram.  This village is listed as a World Heritage Site and is an eclectic mix of sun, seafood and sand. Famous for its ancient rock carvings, especially the Shore Temple, it was once the second capital and seaport of the Pallava kings of Kanchipuram. Even to this day, it remains renowned for stone carving, and you'll undoubtedly see and hear the constant tapping of hammer and chisel as artisans chip away at exquisite sculptures.
So I was up at 03:30 getting all set for a 100 mile drive to be there before sunrise and capture the pristine beauty of the Shore Temple at dawn, but God had other plans. The sky was overcast, the light bad, and daybreak brought along a dull, dreary, depressing gray sky – you know the kind I'm talking about. Anyway I did what I had to do…despite the poor light I got some nice photographs of the temple (at least I think so, and you can see those here).
Sometime later as I was strolling around town, I came across this old lady sitting against the fluorescent wall of a guest house. This was such a contrast, a paradox, an unforgettable moment!  The Shore Temple quite literally paled in comparison to this sight…I chatted a while with her and then requested her permission to photograph her. As a friend commented when she saw this image, "…she sits right at the meridian where the two colors meet…like a threshold to be crossed…from one realm to another… "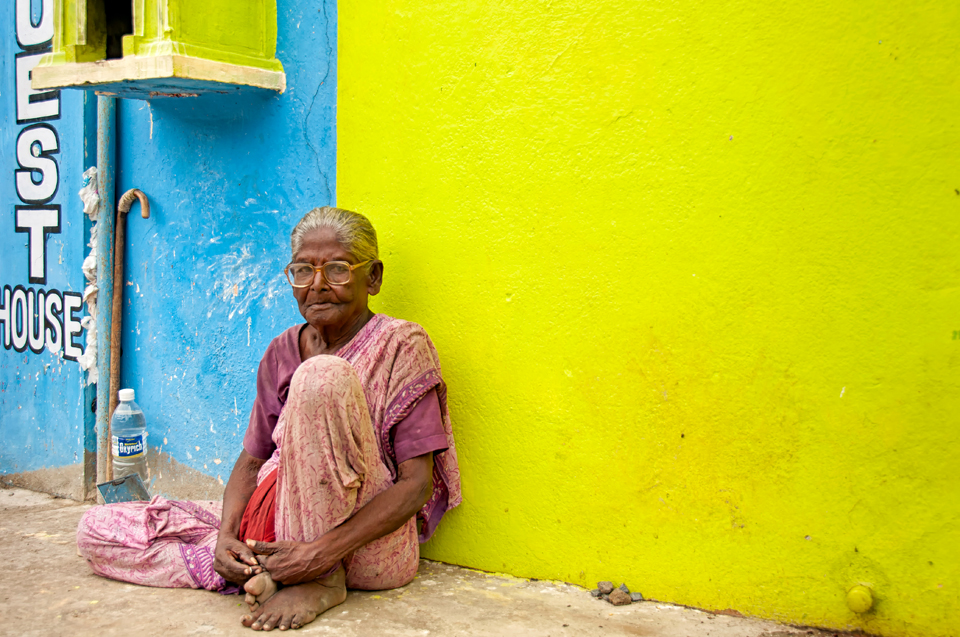 And then later I met this flower-seller in the marketplace who reminded me of the words of A.A. Milne: "Weeds are flowers, too, once you get to know them."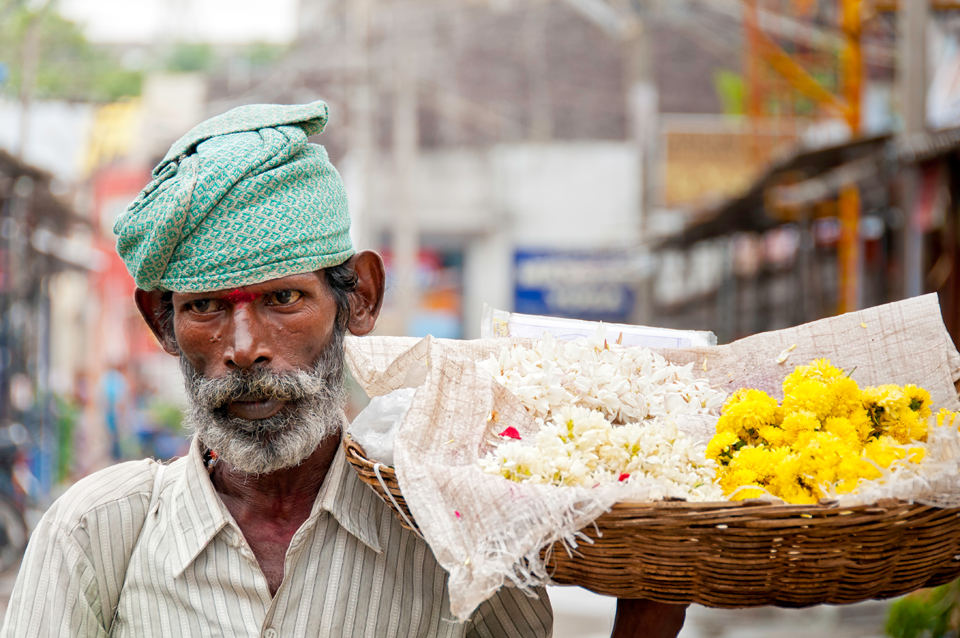 After a while it started raining and that was the end of my photography. But strangely I wasn't disappointed. And I say "strangely" because I'd just driven 200 miles up and down to photograph a World Heritage Site at dawn, but didn't quite manage to bring the shoot to its so-called logical conclusion. All I was thinking of on the way back to the hotel was actually the first photograph I've posted of the old lady against the wall. I just hoped it came out well. I was actually quite surprised by my own reaction. You see I'd just been to a World Heritage Site but wasn't concerned about those photographs and I'm not embarrassed to say it aloud here.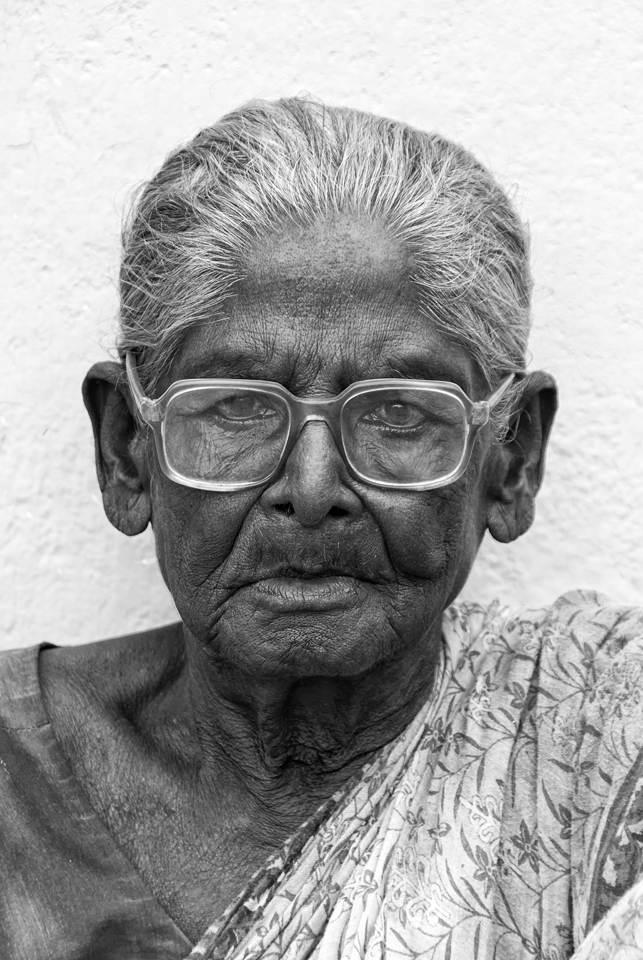 Which brings me to my point. And yes, I know I can go around in circles at times. Photography happened to me by chance about two years ago. It wasn't planned in the real sense of the word. And it has taken me about a year of "serious" photography with the usual repertoire of sunsets and sunrises, flowers, architecture and picture postcard shots (not to mention the thousands of bad photographs) thrown in for good measure to finally realize what really affects me – people. I want to create lasting photographs of those I meet and those who influence my craft, and more significantly me, indelibly. I also realize I have many miles to go on a journey that'll never end. I have a dream. I critique my own photographs unabashedly and right now I feel that they are becoming predictable, boring and monotonous. And I'm not ashamed of confessing it here. This is my journey and I need to be honest rather than wonder what people might think if I say this. I need to do something different.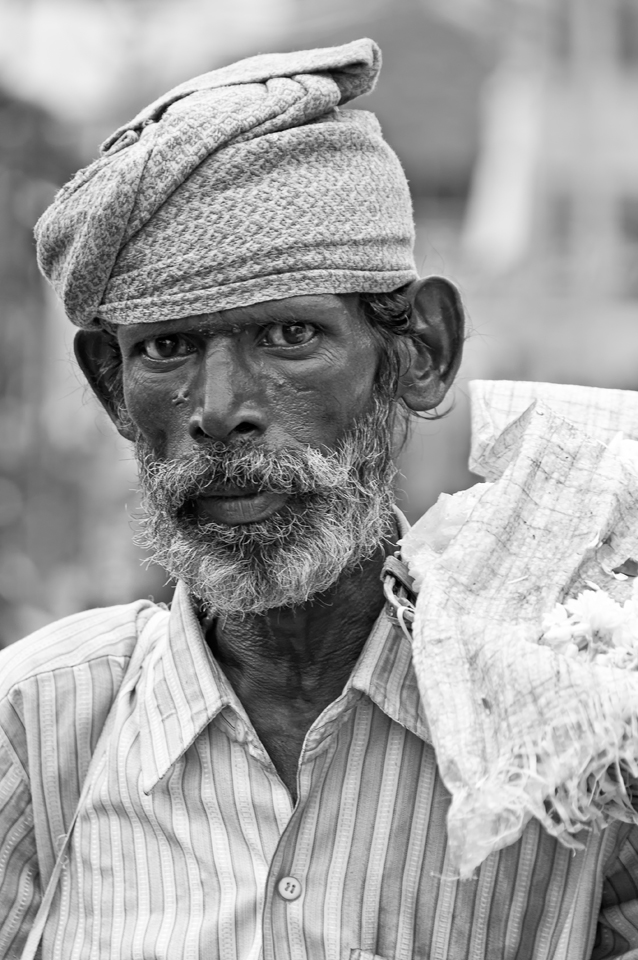 And what better way to tell you how I feel at this moment than to quote Rabindranath Tagore again:
"I travelled the old road every day, I took my fruits to the market, my cattle to the meadows, I ferried my boat across the stream and all the ways were well known to me.
One morning my basket was heavy with wares. Men were busy in the fields, the pastures crowded with cattle; the breast of earth heaved with the mirth of ripening rice. Suddenly there was a tremor in the air, and the sky seemed to kiss me on my forehead. My mind started up like the morning out of mist.
I forgot to follow the track. I stepped a few paces from the path, and my familiar world appeared strange to me, like a flower I had only known in bud. My everyday wisdom was ashamed. I went astray in the fairyland of things. It was the best luck of my life that I lost my path that morning, and found my eternal childhood."
The journey has just begun. My eternal childhood.