I've often wondered what truly is a "memorable image". Is it merely adherence to the rules? Understanding the Golden Mean? Getting the horizon straight? Capturing a child's innocence? That glorious sunset? Sure it is most of this, and yet more. Now this may seem familiar: you're with a great subject, you photograph it, but when you look at the picture later on, it has nowhere near the impact the actual scene had.
That's because many things have happened between "composition and click". Our brain tends to focus on only the parts we want to see. Selective retention, psychologists call this. It sees that evocative portrait imagining it in high-key B&W, yet disregards the clutter at the top of the frame and the rubbish piled up at the bottom. Having been there, done that, I am now more conscious of not only what I see around me, but also what I see through the lens. I slow down when I photograph. Later I put aside time to see my own pictures critically, without the benefit of post-processing. I see a brilliant photograph, but for the fact that I got my subject's left hand only till the wrist and missed the fingers. This helps me the next time.
Another reason for the less-than-ideal transition from "reality to roll" is that mak­ing a photograph (I prefer the term "make a photograph" to "take a photograph" because it better reflects the creative process of photography) means going from three dimensions (width, height, and depth) to two, eliminating depth. There are a number of techniques to improve "spatial" dynamism in pictures, i.e. better manage the loss of depth. These include working with leading lines, incorporating di­agonals in images, framing with the rule of thirds in mind, using shallow depth of field to isolate foreground from background, wide-angle lenses, etc. Therefore, a big part of creating compelling photographs is trying to translate or even exaggerate that feeling of depth into my final, two-dimensional image.
There's yet one more reason, and another important dynamic in photog­raphy: when I'm making a photograph, I'm actually not only cut­ting out the third dimension of depth, but also the fourth: a photograph is not only a spatial crop (a frame from a bigger scene), but also crop in time. The best way to translate a feeling of time (or timelessness), and there­fore dynamism, into a picture is to work with the shutter speed.
But this is not about the technicalities of making an image. To answer the question that I started from, I need to figure out why is it that of the thousands of pictures I've seen and studied, a few instantly come to mind, and why is it that those photographs of mine that I find best, people don't quite appreciate, or perhaps understand. A simple answer is association. We are all comfortable in our zones, and so for example a "great" photograph with a deliberate blur might not catch the fancy of many. But in itself the feeling of time induced by that blur tells a story. The complex answer lies within me. The problem is in my vision, intent, expression and finally interpretation. More on this in my next post.
What I do need to do is capture that moment within the frame, and to create an image that stands alone and tells a whole story in a single frame, is challenging. It requires a different approach than a photo essay or telling a story over several images. Capturing a moment requires the viewer to have instant recognition and, perhaps also, instant surprise. A momentary image tells a universal story. I made this photograph of a child of maybe 5 or 6 years in mid-step as he was walking towards me carrying his load of plastic and glass bottles, and empty cans, quite obviously from a garbage dump. Even from about 30 feet or so, his eyes told a story…but in that 1/200th of a second, I couldn't know the story; maybe even in a lifetime, I'll never know it. All I knew instinctively was there was a story, maybe of unfulfilled desires and broken dreams, but surely of hardship and pain.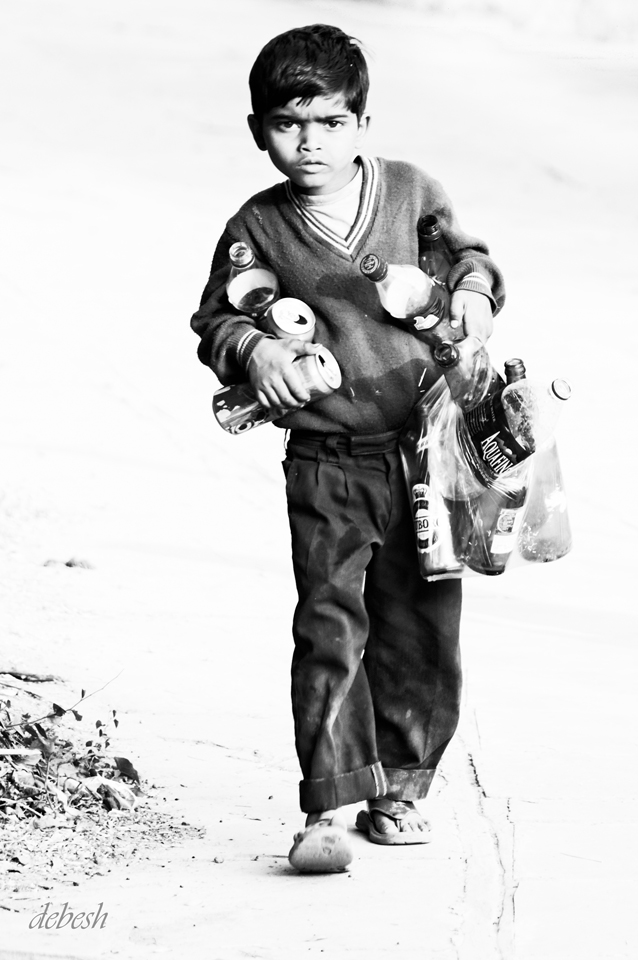 And this rickshaw-wallah at Amritsar, just outside the Jallianwala Bagh. I watched this man for a few minutes, and then went up to him to see if he'd agree for me to make a few images with him. He smiled this most beautiful smile and said "yes". I often wonder when I make photographs of people, why is it that I'm fascinated with people who have so little (as we know it), yet smile from their hearts? Every time this happens, it gives me great belief in the resilience of the indomitable human spirit, the inner strength we all possess but fail to recognize. It gives me hope. It gives me faith. Maybe that is why I see these images over, and yet over again.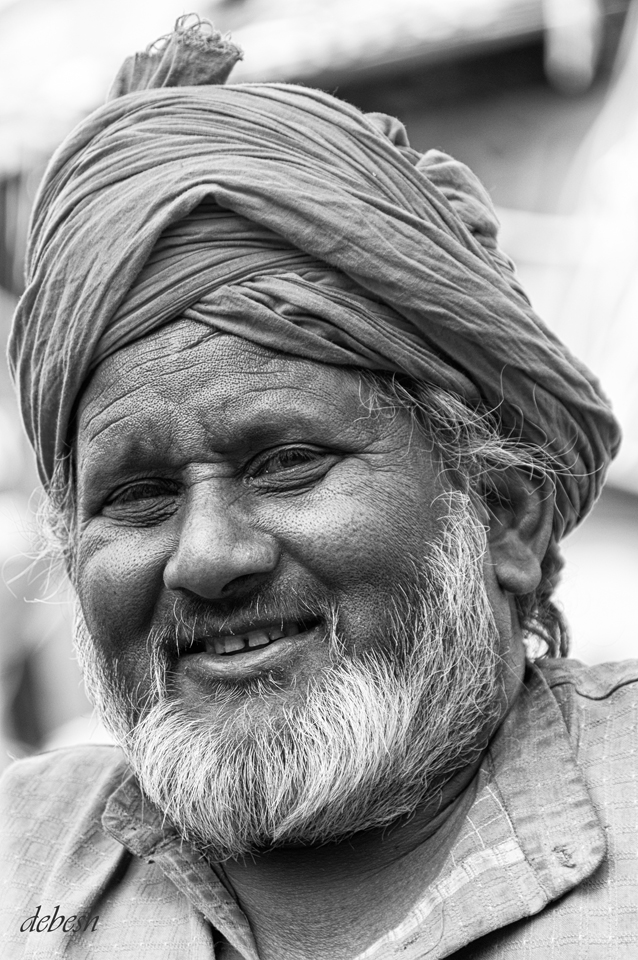 These are stories in a universal language, no translation needed.
For these moments to be recognized (as opposed to predicted), I need to be aware, I need to feel. Photographers, as in any other creative, literary or artistic pursuit have a signature style. I am figuring mine out, and as I evolve I have slowly started using the litmus test of "capturing my emotion", vs. "capturing my sight". From simply saying "I was here", I now want my photographs to say "I felt this". As Antoine de Saint-Exupery said, "And now here is my secret, a very simple secret; it is only with the heart that one can see rightly, what is essential is invisible to the eye".
So photograph what you feel, not what you see.